Favourites Dinner Day on Thursday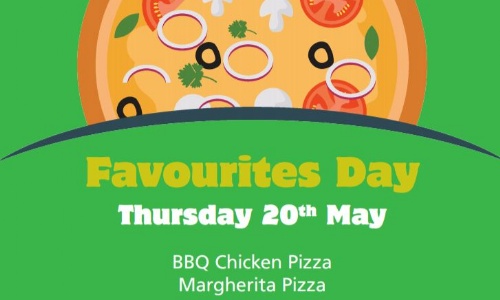 Pabulum are having their 'favourites dinner day' again this Thursday and children will be able to choose from the special menu:
BBQ Chicken or Margherita Pizza
Sweetcorn - Potato Wedges - Coleslaw
Jacket Potato with Grated Cheese or Tuna Mayonaise
Chocolate Brownie & Vanilla Ice Cream, Fruit Jelly, or Fresh Fruit
To encourage our younger diners to try school dinners, each child in Years R, 1 and 2 who have a school dinner on that day will be in with the chance of winning a prize if they are lucky enough to have a plate with a special prize sticker.
Due to the school photographs also taking place on this day we have had to rearrange our lunch halls, and therefore Pabulum will not be able to serve Years 1, 3 and 4 with thee ice cream or chopped fresh fruit. Instead, there will be crudities, an apple, bread and a chocolate brownie, along with their choice of main meal.
We look forward to seeing as many children as possible enjoying favourites day dinner and wish all of our young diners good luck in the prize draw.