Year 1
| | | |
| --- | --- | --- |
| Class Name | Teacher | TA |
| Garnet | Miss Arthurs | Miss Branagan |
| Sapphire | Mrs Smeeton/ Mrs T-J | Miss Soto |
| Topaz | Mrs Clifton | Miss Bryant |

Curriculum Letters:
Term 1
Term 2
Term 3
Term 4
Term 5
Term 6
Term 6
Year 1 have learnt a great deal about our local area this term in our Super Sittingbourne topic! We have learnt about Sittingbourne's brick and paper-making history. We made bricks AND paper and very messy it was too! We've looked at lots of different kinds of maps; we've looked at the High Street and thought about what we like about our home town and what we'd like to improve. We've learnt about North, South, East and West - we know how to use a compass.
In Maths we stretched our learning into counting in groups of 2s,5s and 10s and then we learnt how to share them out into groups again.
We also learnt how to find half and a quarter of a number!

In English we started off the term writing Spring poems; we wrote instructions to make paper; wrote about our homes and we retold the story of 'The Three Little Pigs.' We did some very creative acting out of the story too! We love to tell a story!
We are continuing to be fantastic in our phonics lessons. We are learning more and more sounds every day and we are very proud that our reading is showing amazing progress!
We have learnt so much about what things are made from in our study of different materials in Science. We've tested the properties of these materials - is Wood waterproof? Does metal float? Is plastic bendy? Could you design an experiment to test the strength of a material?
Erin made a house for a lion that remained dry when it 'rained'!

This experiment is showing how you can test if a material is waterproof - very handy if it rains!In RE this term, we learnt how other people worship and learnt that we all may be different but we can celebrate our differences because we are all special. Look at the amazing creations we made:
Our Art Week was very colourful! We learnt about the Primary and Secondary colours and read a fabulous book called, 'The Dot' which teaches not just about colour but also about believing in ourselves and having a go even if we don't feel confident.
We listened to different genres of music and then drew how the music made us feel. Kandinsky would listen to music when he painted to inspire him.
We always focus on our Core School Values: Kindness, Responsibility and Learning. In everything that we do, we try our best, help each other, look after our things and always show kindness, respect and friendship.
Forest school in Year 1
We have had a great time at Forest school this term. We have had lots of adventures digging in the digging pit looking for treasure and building lots of dens. We have been on bug hunts and even built a new home for Eeyore. Lots of fun all finishing with a biscuit and a hot chocolate. Yummy.
Term 4
Year 1 have had a wonderful woodland adventure this term!
In Maths we have continued to develop our understanding of addition and subtraction - with numbers within 20 and higher. We have learnt about the Place Value of numbers to 50 - for example, 45 is 4 Tens and 5 Ones.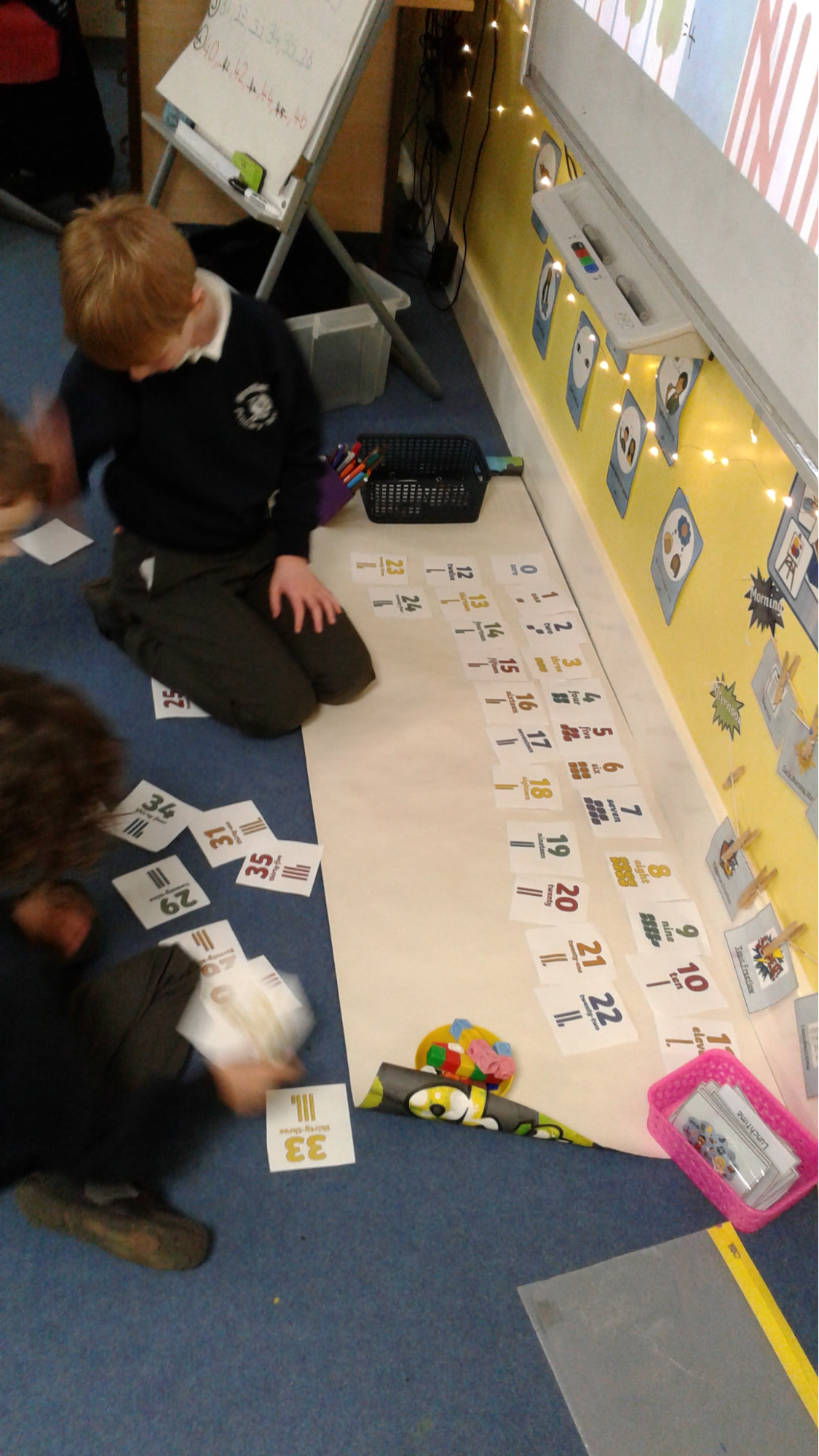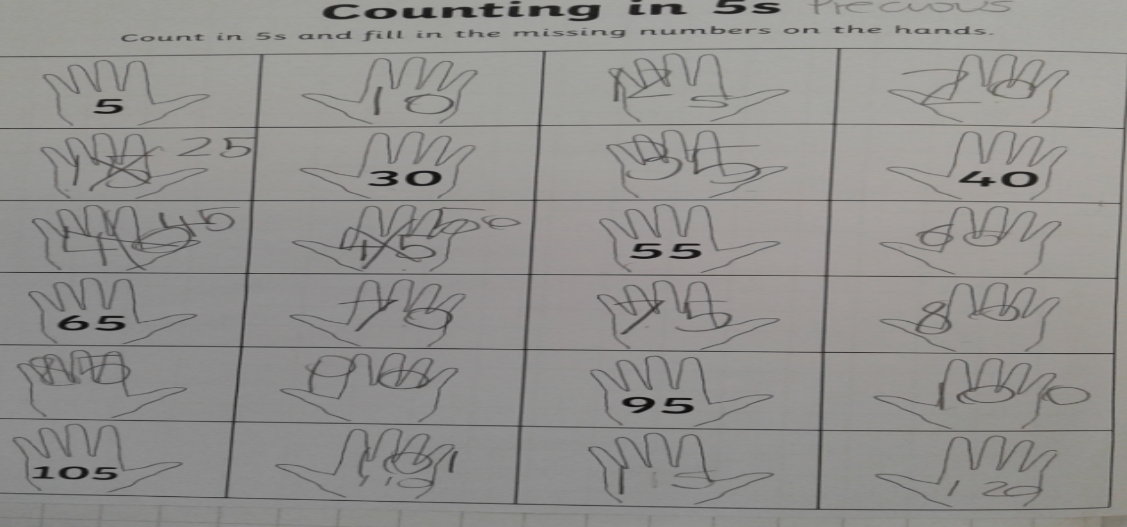 We have also been getting very practical when learning how to count in 2s and 5s to 50.
In English we have been having some wonderfully woodland adventures. We've joined the Gruffalo and made him some menus for breakfast, lunch and dinner. It is quite a shopping list! We've visited 'The Foggy, Foggy, Forest' and found some fairy tale creatures. This helped us learn about shadows too. We enjoyed retelling the story of Little Red Riding Hood too.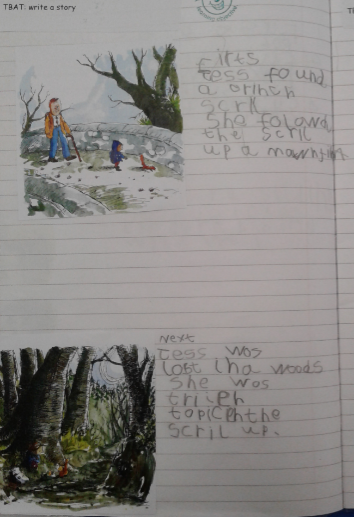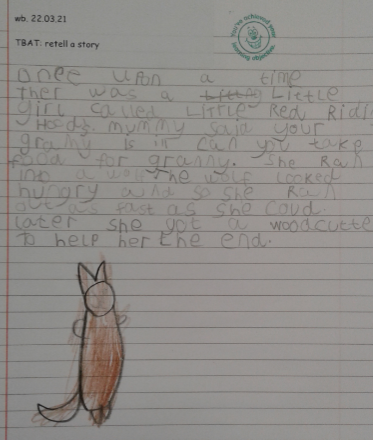 Linked to our Freeflow and Science learning we have also considered why we should look after our environment and ways to preserve nature for the future and save our planet.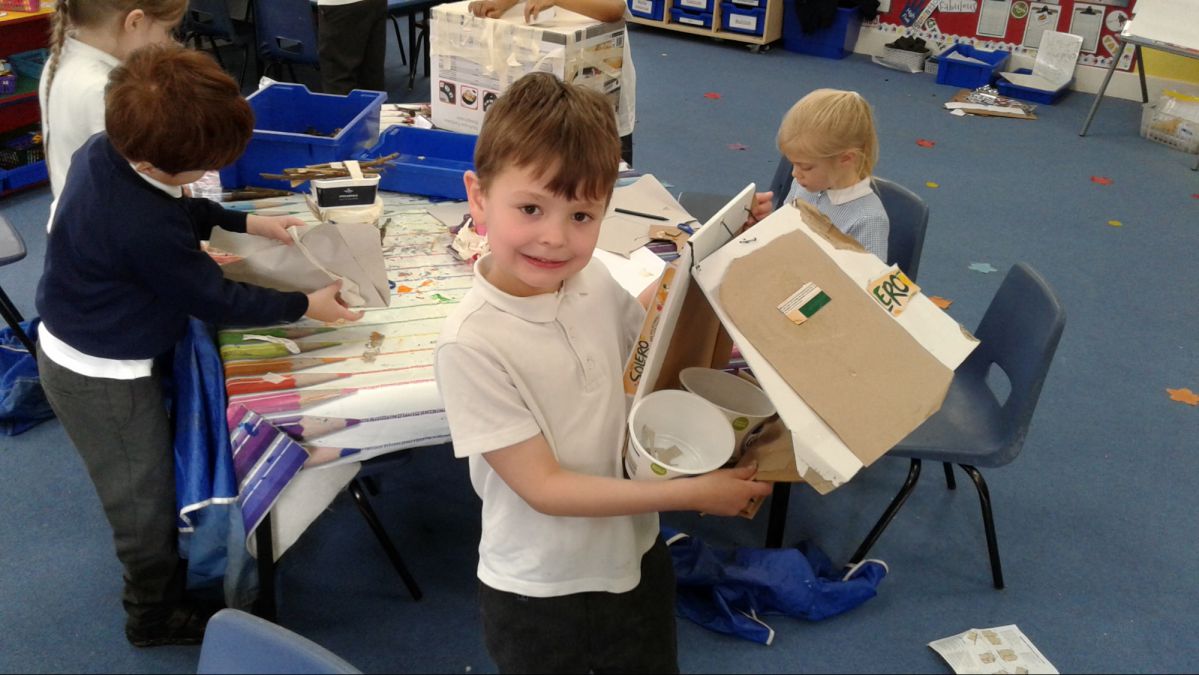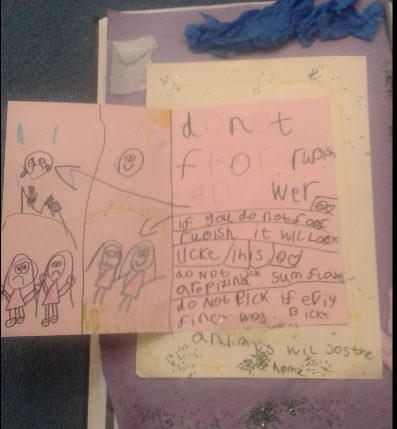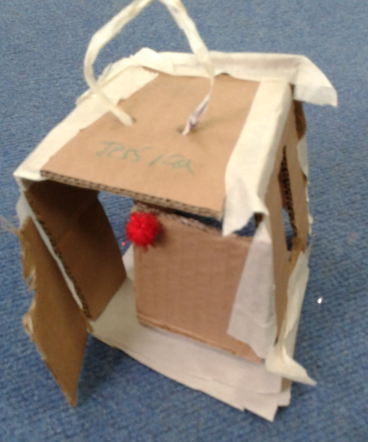 We know so much about the Plant Kingdom. We can label the parts of a plant, we've investigated how a plant grows and we have grown beans, sunflowers and a whole bunch of veggies and flowers! We've learnt about evergreen and deciduous trees - just call us nature detectives!

We've also begun to learn about measuring the length of objects using practical (non-standard) equipment such as our hands and also standard equipment such as a ruler.
Keavie discovered that her daddy has the biggest feet as well as hands in our investigation. In class we discovered that between children it was very different! The child with the biggest feet, did not have the biggest hands!
We've also found time to celebrate the most wonderful World Book Day!
Forest School : Year 1
In Forest School this term we have been busy making clay creations with natural resources. We used our hands to create some fantastic sculptures.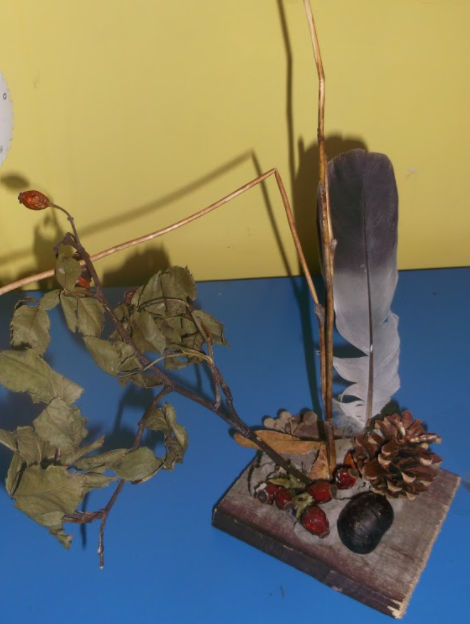 We have been making awesome dens down at the bottom of the site. Elliott and Joseph have been busy creating a fantastic structure and even swept around the front to keep it nice and tidy.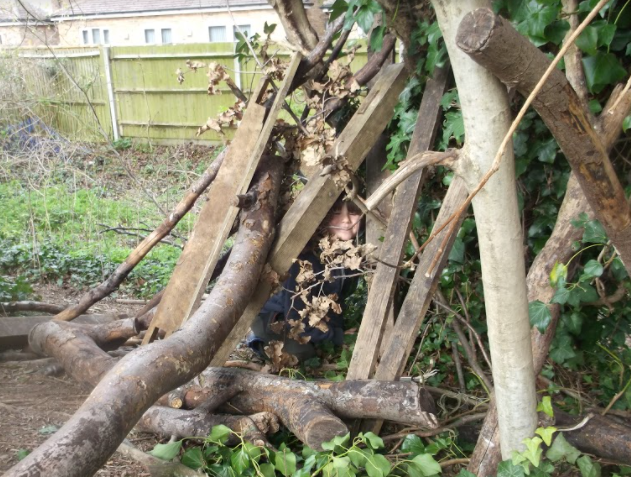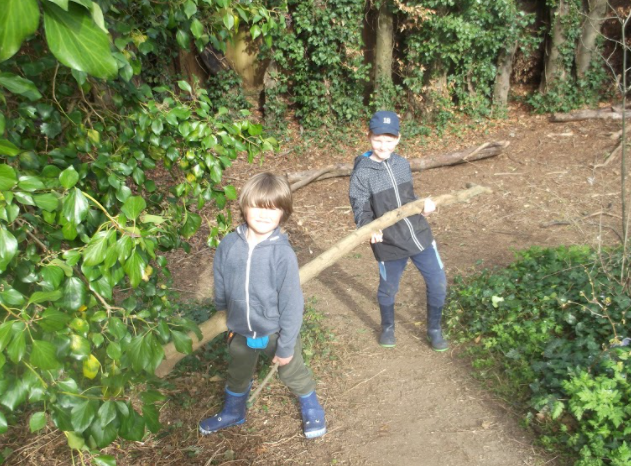 On our last session before Easter we had an Easter egg hunt! The Easter Bunny hid the egg in really tricky places but we found them all and ate them around the fire circle.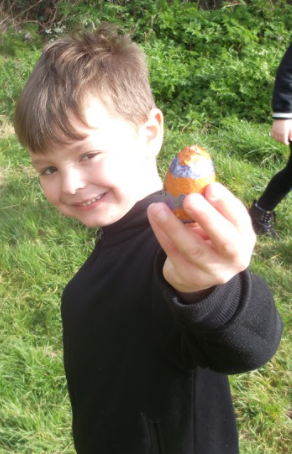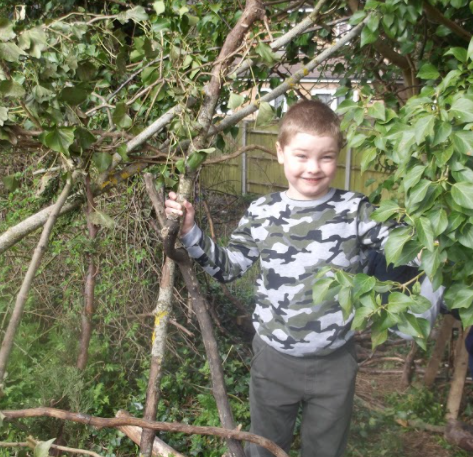 We have been enjoying the digging area Holly found hidden treasure! Ashley and Joshua found lots of worms and rescued them by placing them in the bug hotel.
Term 3
Year 1 have had a tremendosaurus dino-tastic term!
In Maths we have been learning how to add and subtract to 20 and our place value of numbers to 50.

This show a number bond to 20 using legos. #


This shows adding together using tens-frames and Lego.
We've also begun to learn about measuring the length of objects using practical (non-standard) equipment such as our hands and also standard equipment such as a ruler.
Keavie discovered that her daddy has the biggest feet as well as hands in our investigation. In class we discovered that between children it was very different! The child with the biggest feet, did not have the biggest hands!
In English we have been reading some fantastic dino books, such as Dinosaur Roar and Dear Dinosaur. We've also written reports about dinosaurs - you see, we can write fiction and non-fiction!
During Children's Mental Health week we thought about what makes us happy. Expressing ourselves through art, dance, drama, singing - creatively, can make us happy. When we know what makes us happy we can do these things to cheer ourselves up if we are feeling sad.
Our Science focus this term has been learning about animals which linked to our dino topic. We've learnt how to classify animals into groups such as carnivores, herbivores and omnivores. We've looked at the features of animals and compared them, for example, did you know that you can find out what an animal eats by looking at its teeth?
Francis sorted his animal cards out fantastically to show which animals were carnivores, omnivores or herbivores!
Grace chose to show the same information in a Venn diagram!
We've also celebrated Chinese New Year - this year, 2021, is the year of the Ox.
Joseph made a bright red envelope with a super ox picture on the front. These are given with money inside and are also a symbol of good luck!
We've loved the topic of Dinosaurs this term! We created posters for information about our favourite dinosaurs. Harley used stickers!
Look at these 'fossils and skeletons.'
Term 2
Year 1 have had a very busy term making the most of when we could be in school and learning as much as we can!
In Maths we have been learning our place value to 20 and sometimes beyond. We use numicon to help us learn our number bonds - can you see how the buckets are balanced? This is because the numicon tiles are of equal value.
We started the term with a celebration of all things 'sparkler-like' whilst learning about The Gunpowder Plot including how to stay safe on Bonfire Night.
The children learnt to use descriptive language when writing about the story of Rama & Sita.
We also spent time thinking and learning about Remembrance. We found out about a man called Walter Tull who was a soldier in WWI who also played for Tottenham Hotspur! We also made a wreath to show our respect to those who have died in wars.
During Friendship Week we talked about how we can be 'United Against Bullying.' We learnt that bullying is 1. Unfair 2. On Purpose and 3. Happens over and over. We are all friends in Year 1 - we especially talked about how we can make mistakes sometimes but we always try to be kind and look after each other.
Our Science focus this term has been learning about Seasonal Change with a focus on Autumn and then Winter. We investigated rainfall in Autumn. We made rain gauges and recorded the rainfall over 5 weeks.
We learnt about how plants change through Autumn and how animals change their behaviour as the season changes to Winter.
Although we were at home we read about The Nativity Story. We put the events in order and wrote sentences to retell the story. Some of us created paper angels and built stables out of junk.
Our Design & Technology focus this term was to learn about mechanisms. We designed and made our own pop up Christmas Cracker cards from home.
Term 1
In Year 1 we have enjoyed a super term based on Superheroes! Here are some examples of our super work. We have explored many Superhero stories and learnt so much about super numbers. We are doing very well with our writing in sentences with capital letters and full stops and, of course, our handwriting is just so super too!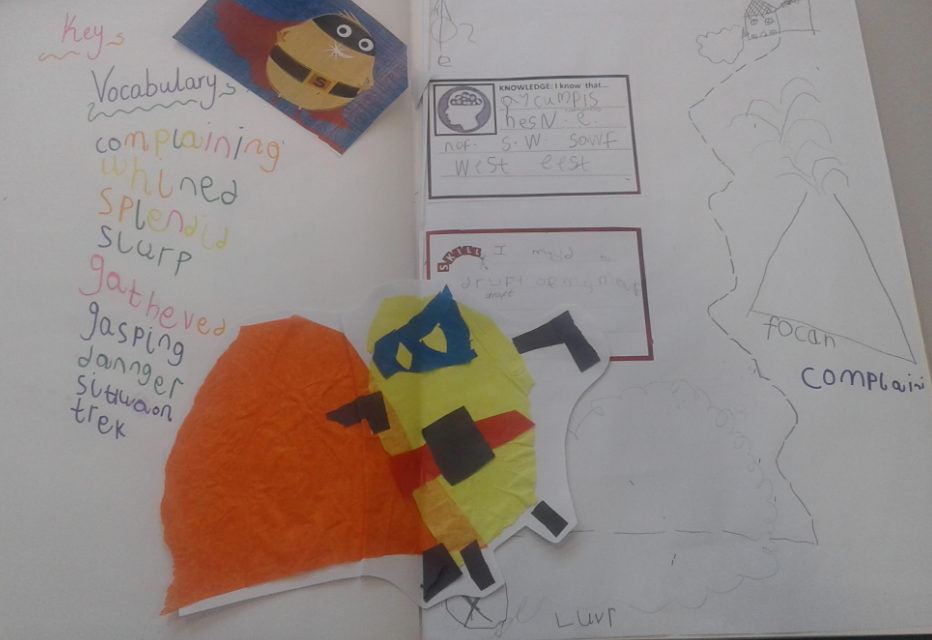 We learn lots of new vocabulary in Year 1 and we love Supertato!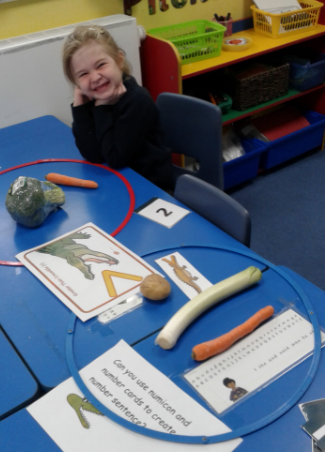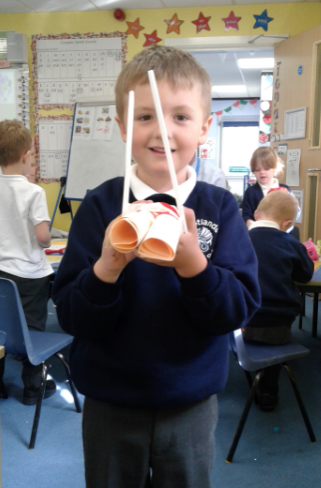 In Science we have been learning about Our Senses. Here is Bentley who made some binoculars when we learnt about 'Sight.'
Here is our 'Hearing' experiment.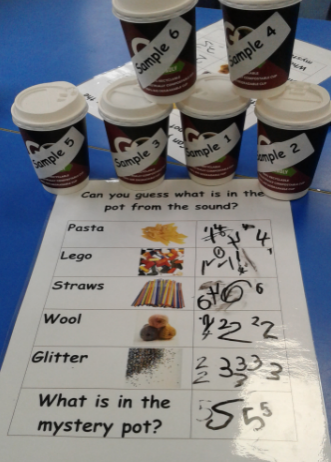 In maths we have learnt how to use different symbols like + and - but we also learn the 'greater than and less than symbols too.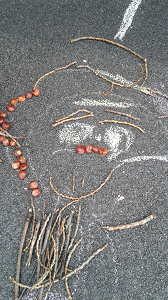 The children enjoyed exploring the natural resources to create portraits of each other.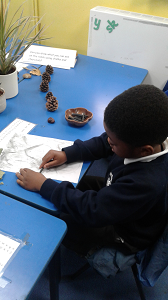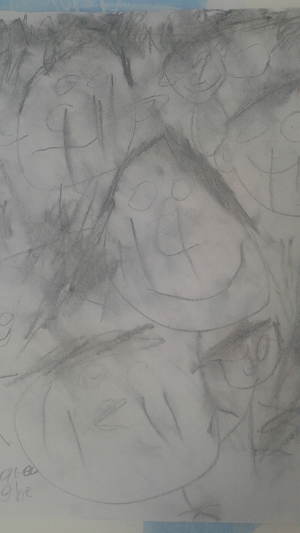 Bami is exploring the charcoals to draw faces, he is experimenting with shading and smudging.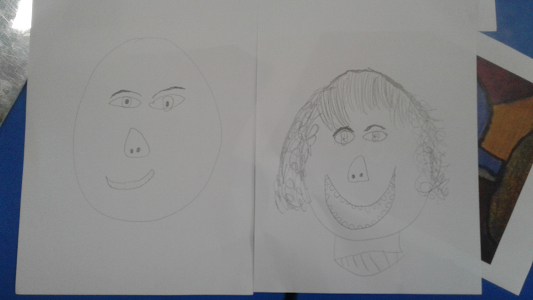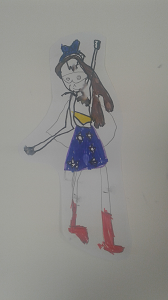 We have enjoyed using different media to create portraits, we used pencils to carefully sketch out faces. Erin drew a fantastic self-portrait after learning about different artist's work.
We have had an amazing first term and cannot wait to be even more super very soon!