Year 2
| | | |
| --- | --- | --- |
| Class Name | Teacher | TA |
| Coral | Mrs McIntyre | Miss Fitton |
| Crystal | Miss DeLacey | Mrs Vaughn |
| Jade | Mrs Judge | Mrs Fenn |
Curriculum Letters:
Term 1
Term 2
Term 3
Term 4
Term 5
Term 6
Term 5
Click here for our term 5 update!
Term 4
Click here for our term 4 update!

Term 3
Click here for our term 3 update!
Term 2
Term 2 has zoomed by and before we know it, it is the Christmas holidays! Have a read below of what we've been up to in year 2!
English
We were reading the book 'Around the world in 80 days', Phileas Fogg had some fun adventures, so we wrote a diary entry about one of them as if we were him. Have a look at our fantastic writing:
Maths
The children had a task to make a picture out of Shapes that they found around the house! Look at the amazing things they created!
Science
This term in Science we have been exploring habitats. We looked at where animals and plants are from and why they like to live there.. We went on a Mini-beast hunt around the school to see what we could find and where their habitats were. We even created our own microhabitats at home, using a range of different objects.
Topic
During our topic lessons, we have been travelling all around the world exploring the adventures of Christopher Columbus. We role-played his travels, getting money from the Spanish King and Queen to sail to the new world, much to the dismay of the islanders. We then looked at several of the islands Columbus visited including the Caribbean islands and India.

12 days of exercise
The adults in year 2 set a challenge to do an action for each day to the song '12 days of Christmas.' The children have also joined in each day on Google Classroom!
Term 1 Update
Pirates ahoy!
This term year 2 have been reading 'The pirate cruncher' by Johnny Duddle which has led to many exciting writing opportunities including character descriptions, directions and narrative writing.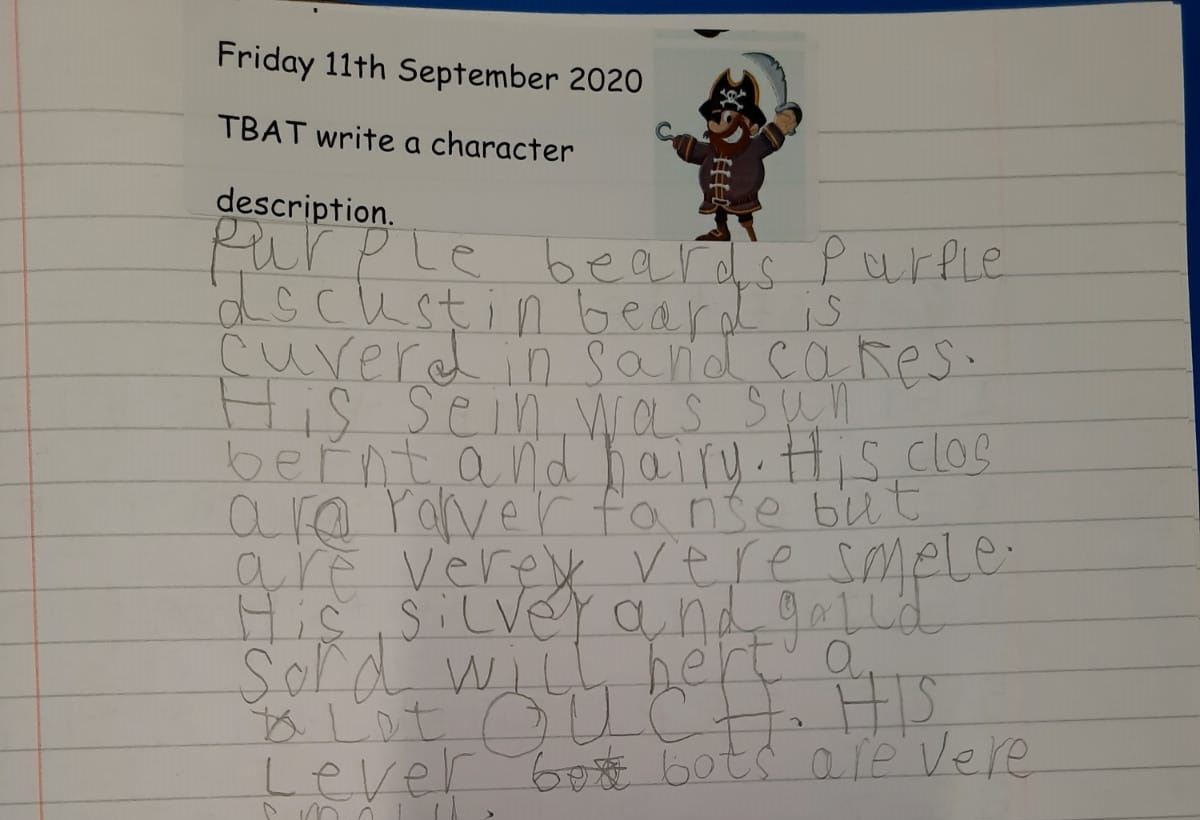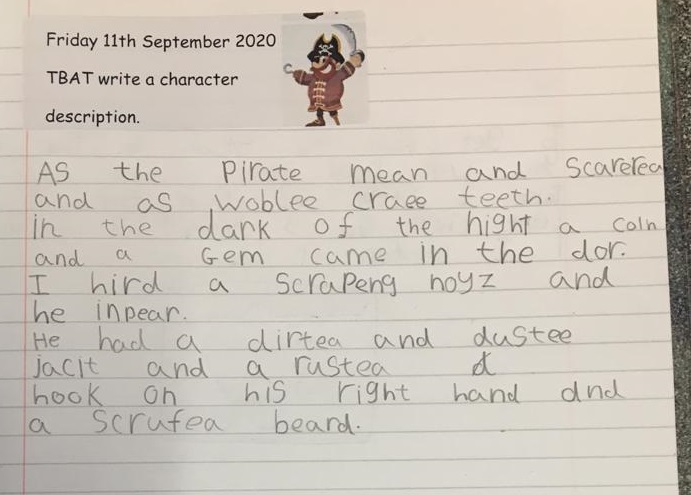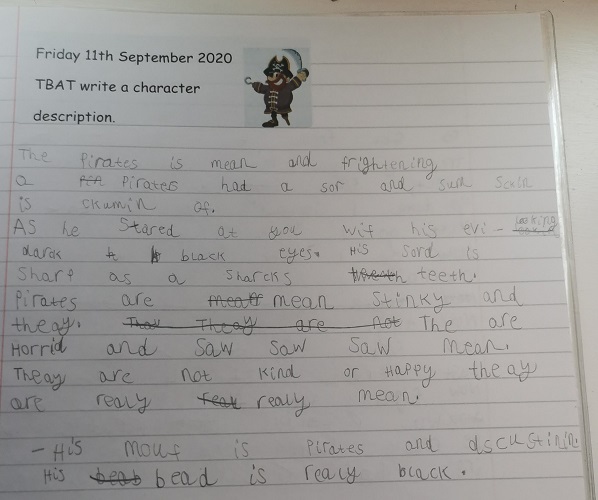 We have begun to use a whole class book for our topic which we have really enjoyed. We are able to show the skill and the knowledge behind what we are learning. We studied a significant individual, the dastardly Blackbeard. We also looked at the history of pirates, comparing modern and historical pirates as well as where they can be found in the world. We were shocked to discover pirates can still be found nowadays but are very different to the pirates we see in films. We also discussed women pirates and how they used to be considered unlucky on the ship, but several women still managed to sneak onboard much to everyone's delight!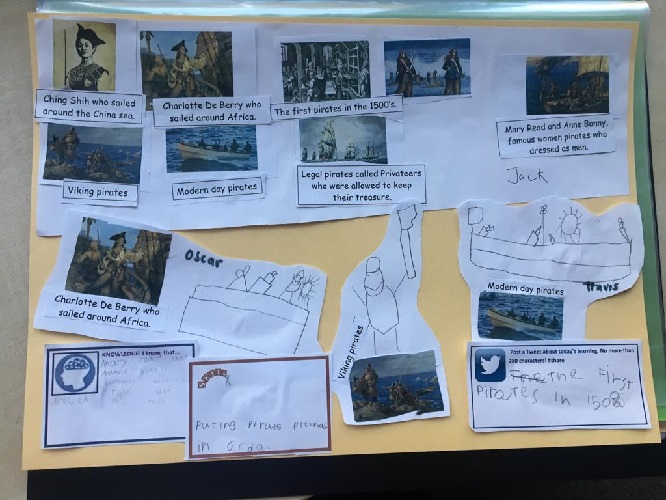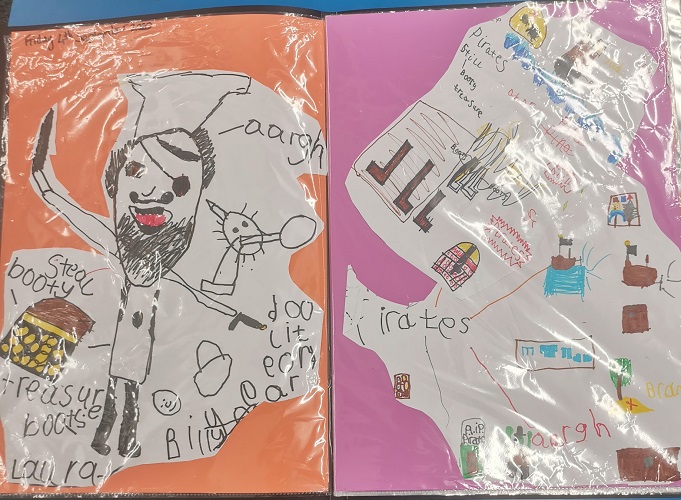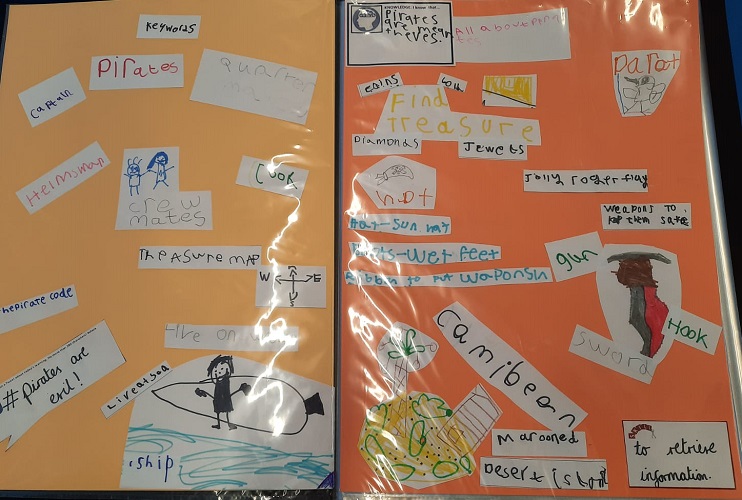 In Maths we began the term by exploring our number bonds to 10, 20 and 100. We then demonstrated our knowledge of place value by exploring tens and ones. We have used several new concepts including the part-whole model, the bar model and column method to help us solve different addition and subtraction problems.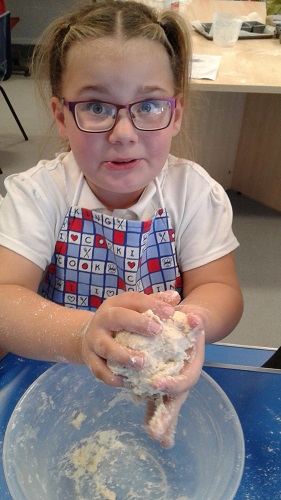 We have also been getting stuck in during the afternoons making many tasty delights in cooking. This has included a fruit salad, bread and pizza, learning new skills such as chopping, kneading, grating and most importantly the washing up!
To wrap up the summer, we have been spending very enjoyable afternoons in the Forest school area. We made dens, we used knives to whittle sticks to toast some tasty Brioche on the campfire, we have been digging for fossils in the digging pit and climbing trees.