Year 3
| | | |
| --- | --- | --- |
| Class Name | Teacher | TA |
| Pearl | Miss Kierans | Mrs Mendham |
| Opal | Mrs Huggens | Miss Hornet |
| Diamond | Mr Kitney | Miss Farrant |
Curriculum Letters:
Term 1
Term 2
Term 3
Term 4
Term 5
Term 6
Term 5
Click here for our term 5 update!
Term 4
Click here for our term 4 update!
Home Learning!
Term 3
Although it has been a strange term, Year 3 have managed to still produce some amazing work through their online learning.
Our text for this term has been Roald Dahl's 'Charlie and the Chocolate Factory'. The children have been trying to persuade Mr Willy Wonka to let them into his factory without getting their hands on a Golden Ticket! They are very convincing, wouldn't you agree?!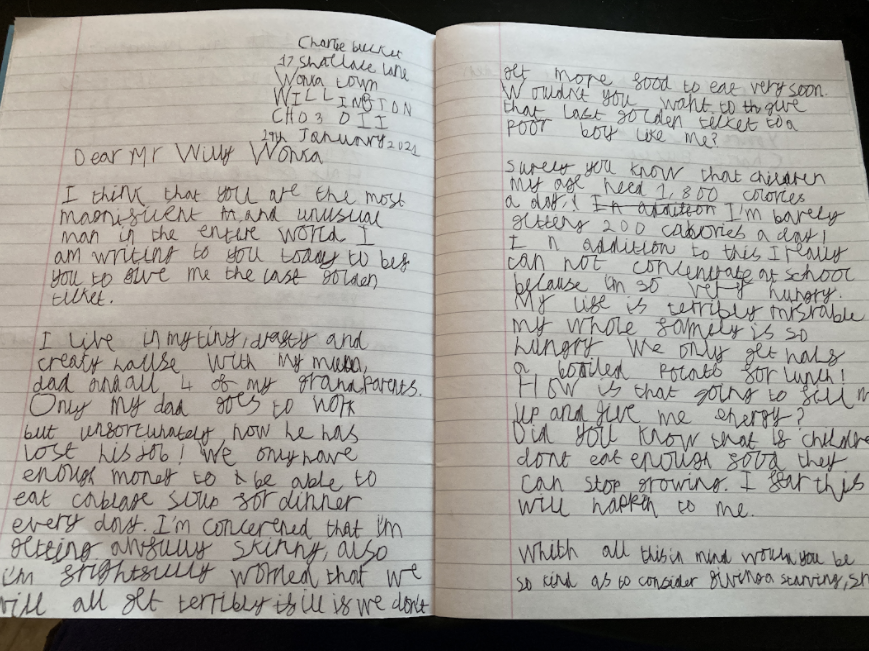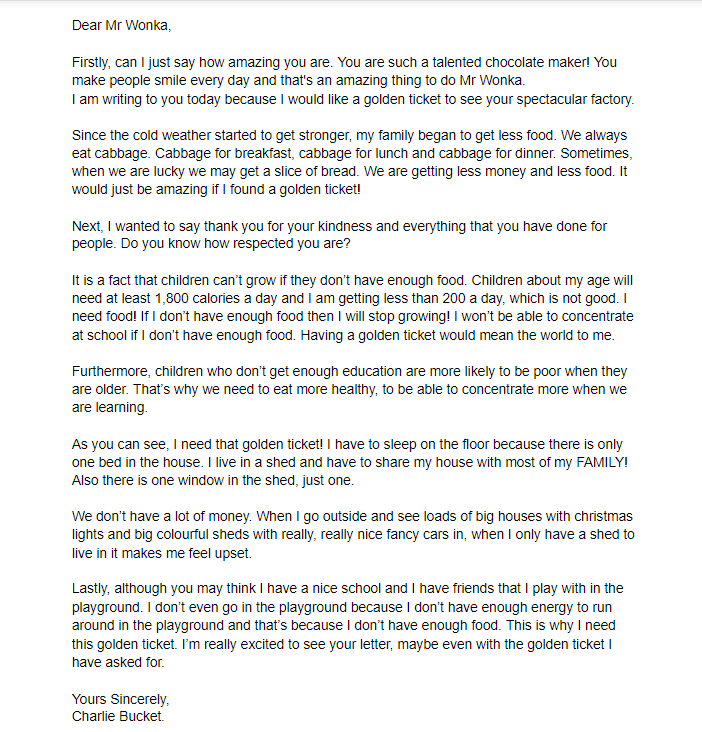 Our Topic this term was 'Chocolate'. The children have developed their geographical skills by locating where cocoa is grown and also why it is grown there. They then looked at fairtrade and sustainability. The children designed and created a new chocolate bar where they could include whatever flavours or colours they liked! One child even did a taste test of different flavours - market research I think!!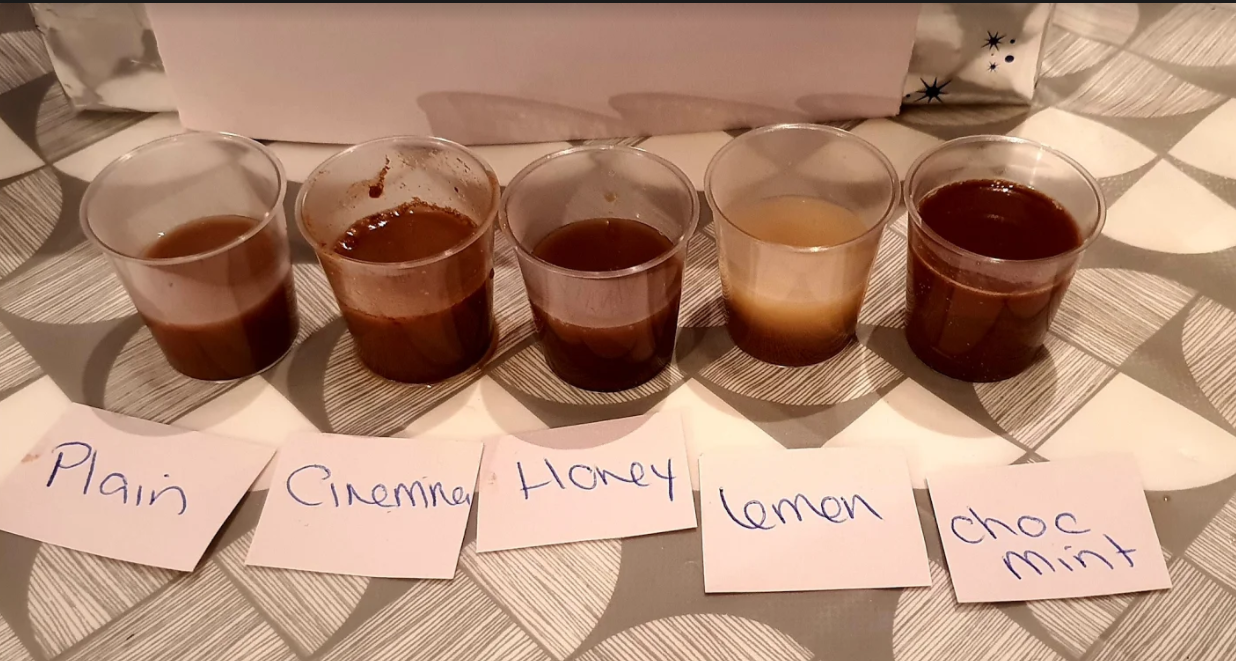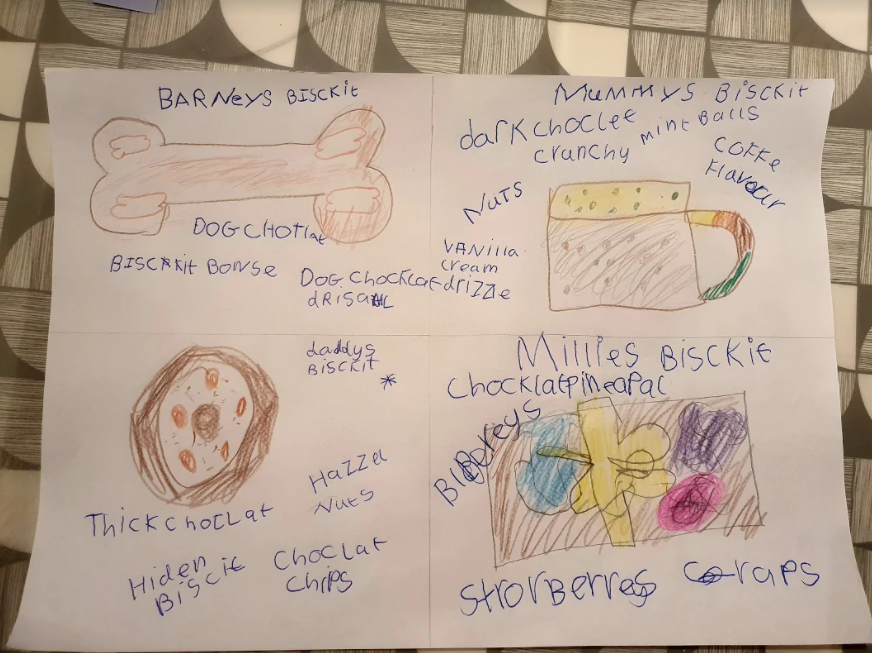 In our Science this term, we have started to look at living things and their habitats. We are going to continue learning about this next term. The most recent lesson was where we were introduced to habitats and microhabitats. The children in school went around the grounds to see what habitats and microhabitats they could find on the playgrounds, fields and outdoor spaces.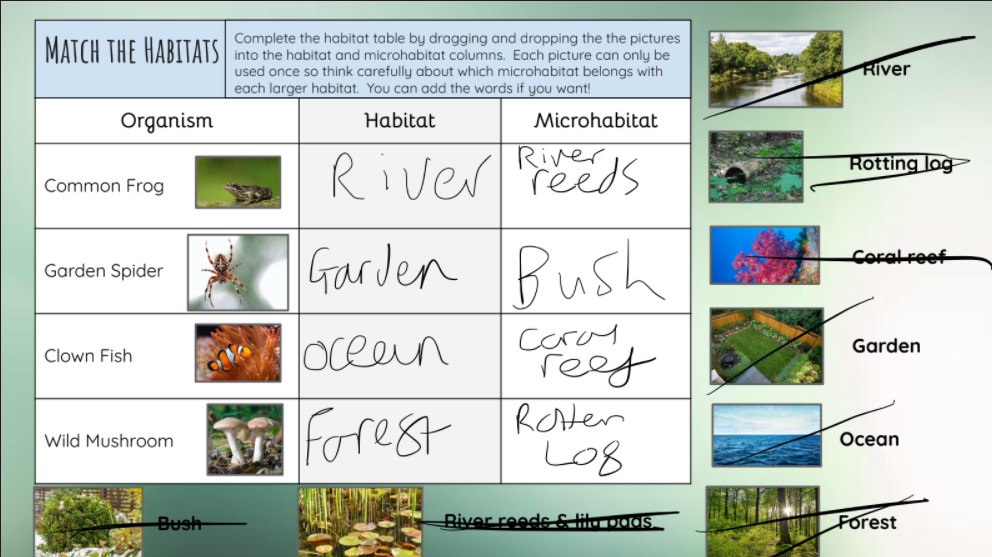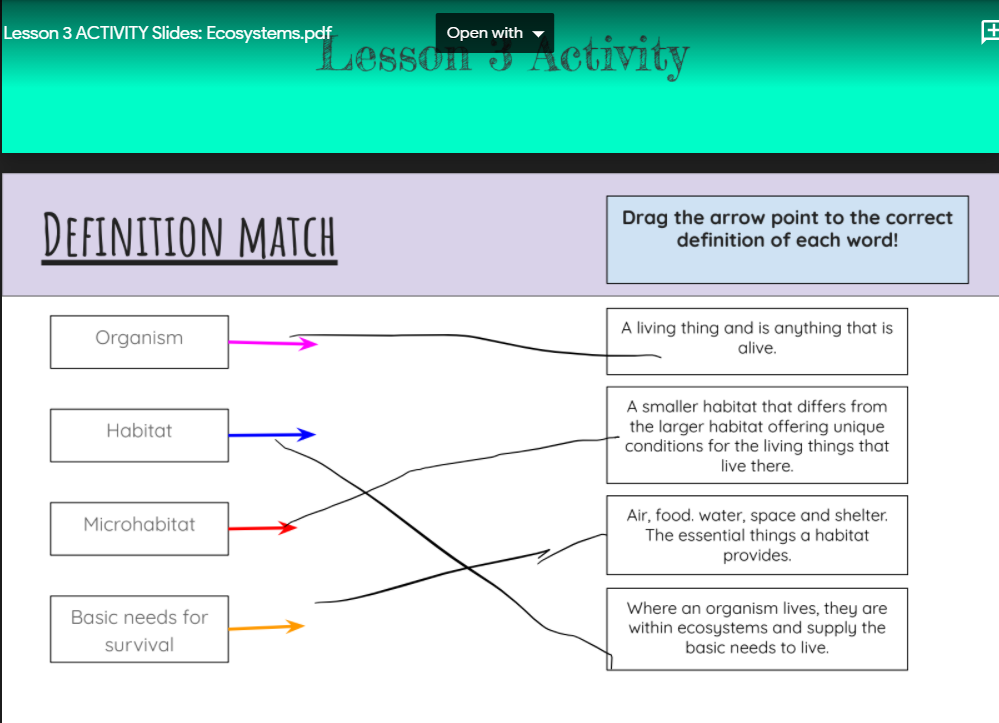 During our PSHE lessons, we have been thinking about challenges. Challenges others face as well as us and considering ways that we can overcome them successfully. A lot of this is down to our mindset and started by focusing on Paralympians. A more recent task was to design a garden for a group of people who face a challenge (Blind, OAPs, children living without green space). Here are some of the children's ideas.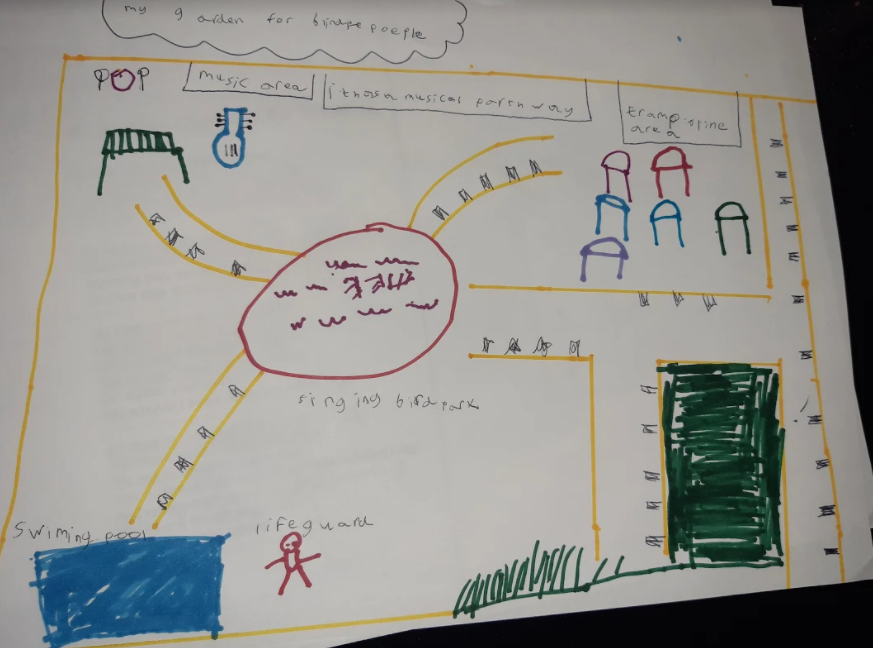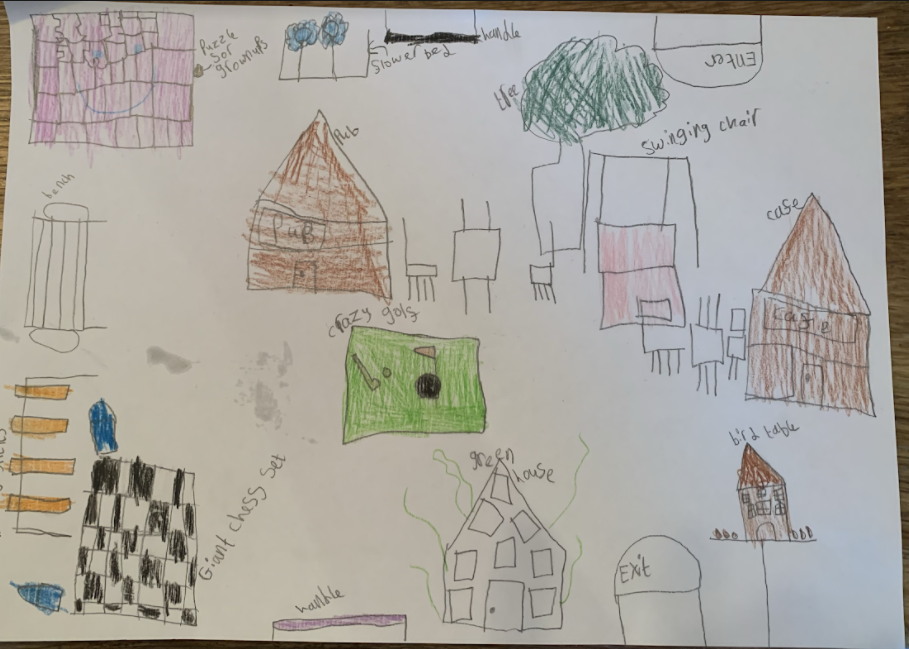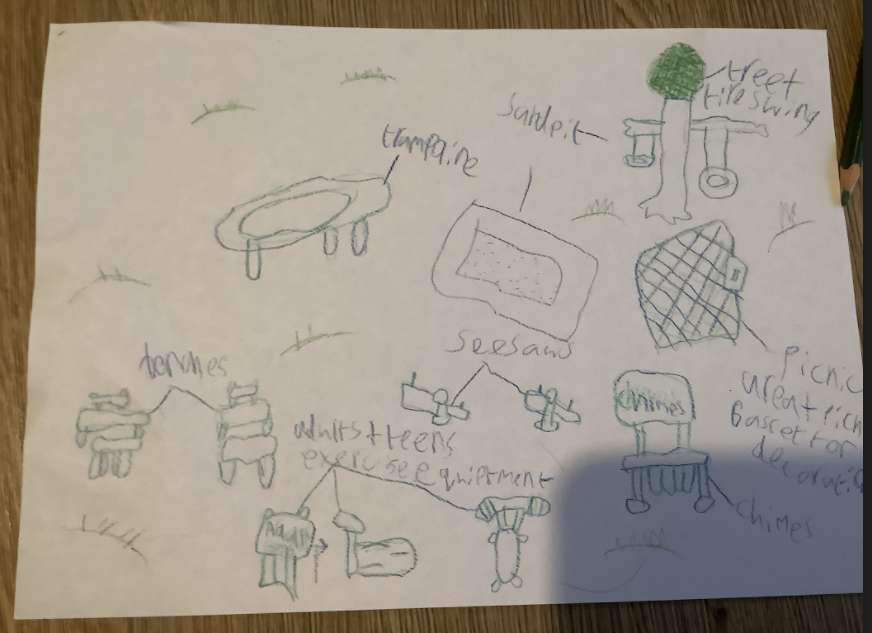 Term 2
has gone quicker than we thought it was going to! How is it Christmas already?! Read below to find out what we have been up too!
English
We have been creating work based around Brazil. We started the term by creating an information leaflet based on everything we could find about life in Brazil. We then wrote a narrative based on the story we were reading all term, 'The mystery of the Troubled Toucan'. We spent time really focusing on our setting description, making our characters come to life and then retelling all the key events.
During the final week of term, we came away from our topic and did a week of Winter Writing. Below are some examples of the children's descriptions from the story 'The Rainbow Bear'.
Topic
During our Topic lessons we have looked at where Brazil is located and what life is like there. We have also spent some time learning about tourism and the impacts of this for the country (both positives and negatives!). We finished our topic this term by looking at the Olympics that were help in Rio during 2016. The children were asked to create their own logo and mascots for the WPS 2020 Olympic Games. Here are some of their examples!

DT
During DT Week, we spent some time learning how to make a mechanical card. We watched some helpful videos and then we had a go ourselves. They all took on a Christmas theme which helped us get into the spirit of things! What one is your favourite?
Jingles the Elf!
On December 1st, we had a cheeky, little arrival in our classroom! Jingles the Elf made his return but he forgot his mask and had to be instantly quarantined! He has been continuing his mischievous antics throughout the month. See some of what he has been getting up too!
Term 1 Update
Wow! What a busy first term we have had! Read below to find out what we have been up too!
English
We have been reading the text 'Running Wild' by Michael Morpurgo. Throughout the term we have written information texts about the Rainforests, diary entries and even come up with alternative endings for the story.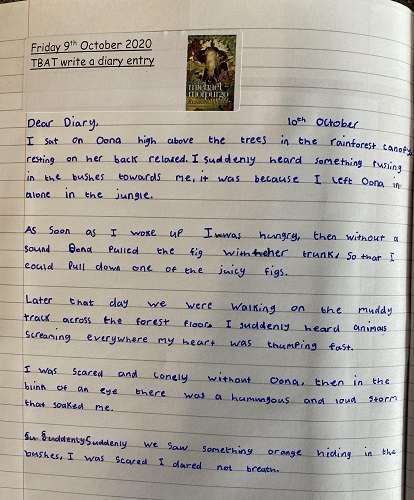 Topic
During our Topic lessons we have looked at where Rainforests are located and what their climate is like. We also spent some time looking at the people that actually live in the Rainforest and how their life compares to ours in the UK. To finish we looked at Deforestation and the impacts that it is having on the environment.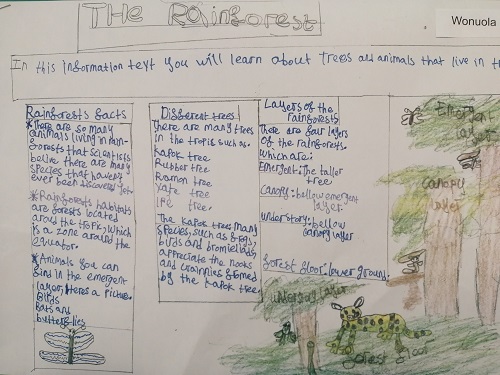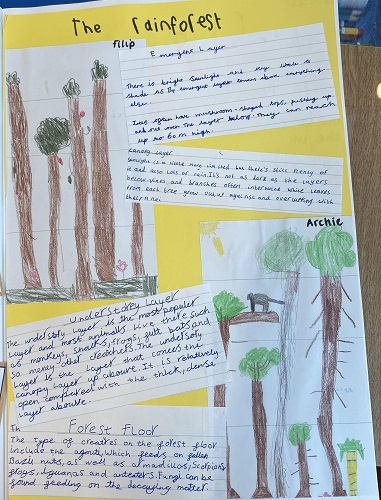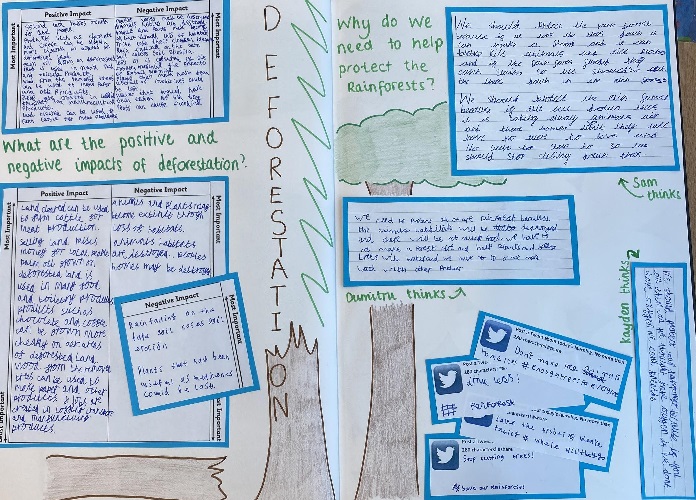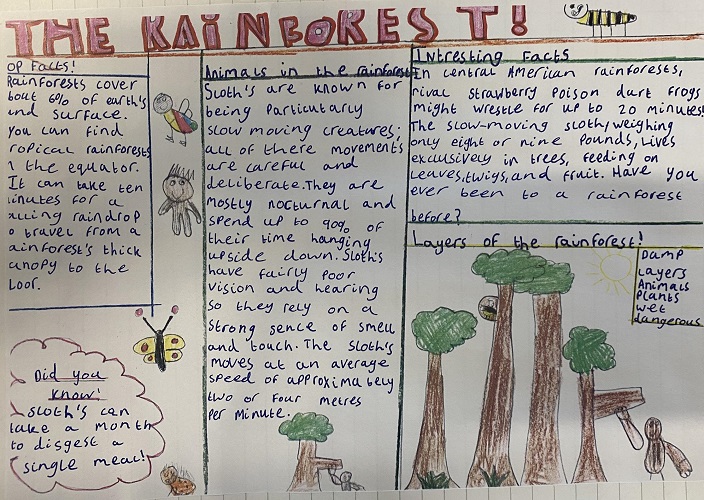 Computing
The children have been using Scratch to develop their programming skills. During the term, they have been practising how to code and then change it in order to make their scenes animated.
They based their scenes on our class text for this term. The children gave it a jungle themed background and included the two main characters, Will and Oona the Elephant.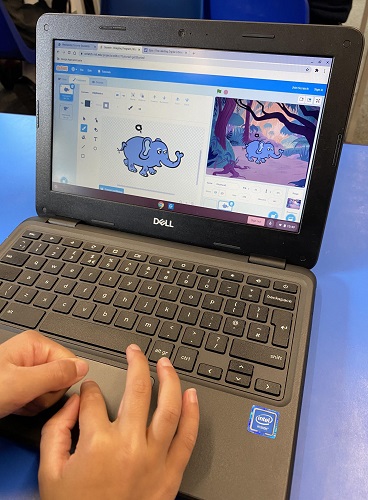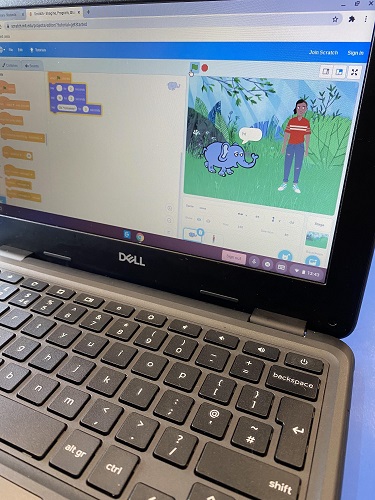 Art
During Art Week, we spent some time learning how to sketch different Rainforest animals and scenes. They all ended up very colourful. The children used different mediums, pencils, colouring pencils and paint to create their images. Here is a brilliant example of some of the work.